PEZOULES OF OIA
AUTHENTIC STAY
Our Boutique Hotel, at the Caldera in Oia, at the heart of the traditional settlement, offers an Authentic experience.
Perched above the picturesque Armeni port, the hotel is built in the traditional Cycladic architectural style, combining the island's tradition with minimal, modern and luxurious comfort. With seven Luxury Suites it offers a Romantic, Intimate stay.
Stunning scenery and Greek hospitality are sure to make your stay unforgettable. Our lavish breakfast with artisanal rarities and freshly baked pastries, and the delicious homemade dishes, served at the privacy of your terrace, will make your experience out of the ordinary.
Relax by our unique Infinity Pool, enjoying the Panoramic Views of the Caldera while sipping a signature cocktail by our house mixologist.

Unwind in the serenity and privacy of your Cave Suite, high on the crest of the cliff, with unobstructed views of the deep blue Aegean Sea.

Just a few steps up, entering at the heart of the town, picturesque Oia awaits you to feel and explore her.

Come and let us be part of your life's journey!
Luxury
Suites
The names of our houses are inspired by the herbs of the greek soil, found in Cyclades and all over Greece. Herbs which ease, soothe and comfort body and soul…
Face & Body Work
Treatment
Guest
Reviews
Wonderful Stay!
"Centrally located in the middle of Oia with breathtaking view from every room. The team brings out delicious breakfast every morning to the terrace. Most of the all, Dimitri and the entire team are super pleasant and helpful, arranging rides and offering tour ideas throughout my stay. I would highly recommend Pezoules to anyone visiting Santorini!"
Great hotel with brilliant service
"We had a wonderful stay at Pezoules in September and couldn't have asked for more. The rooms are spacious each with a fantastic view and the view from the infinity pool is even better. As mentioned by other reviewers, the daily breakfast served on your terrace is delicious. The location is also ideal, right in the middle of Oia. Last but not least, the service from the whole team is perfect. We had an early start one day for a boat trip and they made us breakfast early and then packed up our leftovers to take with us on our boat trip. Thanks for a great stay."
The Best Hotel in Oia
"There is a reason why this hotel has so many good reviews: it's the best place to stay in all of Santorini. The staff. The location. The amenities. The pool. The best. You don't need to look at other options as this is the right choice."
Perfect Hotel, Perfect Location
"Everything about our recent stay at Pezoules was amazing. The people are super friendly and extremely helpful. The breakfast in the morning, served on your own terrace, at a time you choose, is just lovely. The view from the rooms, and the infinity pool is simply breathtaking. The location is perfectly situated in the heart of Oia, yet you don't hear any noise from the shops, bars and restaurants above.
We booked seven nights at Pezoules, staying in the Levanta room but enjoyed our time so much, that we stayed an extra night…and would've stayed longer if we could. It's a special place."
OIA AU CALME
"excellent séjour dans cet hôtel familial situé en première ligne face à la Caldéra.
Belles chambres spacieuses, petit dej au top et surtout ambiance familiale discrète et service parfait.
Séjour court entre 2 avions, mais inoubliable.
Je recommande vivement.."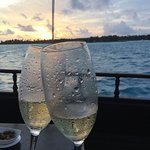 Einfach nur super …
"Tja, wo fange ich an ??? Es war einfach nur schön und ich bedanke mich ganz herzlich bei Dimitri, Mirella und Ioli sowie dem gesamten Team für einen wunderbaren Aufenthalt. Der Tag startete immer mit einem der besten Frühstücke, welches ich bislang in einem Hotel hatte und es tat mir jeden Tag leid, daß ich nicht alles aufessen konnte. Danach ging es für ein paar Stunden auf Entdeckungsreise in und um Oia, natürlich nicht, ohne vorher ein kleines und lustiges Schwätzchen an der Rezeption zu halten, die quasi rund um die UIhr besetzt war und das, obwohl wir während unserer gesamten 5 Nächte die einzigen ( !! ) Gäste waren. Selbst nachts war jemand ( —> Gruß an Mike ) da, um auf uns "aufzupassen". An der Bar im Poolbereich war ebenfalls fast die ganze Zeit ein Teammitglied bis zum späten Nachmittag anwesend. Zwischendurch gab es dann am Nachmittag mal einen kleinen Gruß aus der Küche, bevor dann pünktlich zum Sonnenuntergang rund 1 Dutzend Windlichter angezündet wurden, um die Stimmung perfekt zu machen. Und dann die Betten … Meine Frau hat gesagt, sie hätte besser geschlafen als zuhause und das will etwas heißen ! Zu meinem Geburtstag gab es ein schönes großes Glas Bubbles und dazu das wohl ungewöhnlichtes Geschenk, was ich je bekommen habe, aber was es war, bleibt ein Geheimnis. Wer neugierig ist : Hinfahren und Mirella fragen 🙂 Nochmals vielen lieben Dank für diese tollen Tage. Bleibt gesund und fröhlich bis zu unserem nächsten Aufenthalt."
Tripadvisor Awards Received 2016-2022
Travelers' Choice
The team at Pezoules of Oia is excited to announce that we have been awarded 2022 TripAdvisor Travellers' Choice Best of the Best award.
This award is Tripadvisor's highest recognition and is presented annually to the top 1% of businesses across select categories.